Farm and Natural Beef Links

British Columbia Cattlemen's Association

The British Columbia Cattlemen's Association (BCCA) has been the official voice of cattle ranchers throughout British Columbia since 1929. For more than 75 years, the Association - whose membership is close to 1,500 ranchers - has represented the interests of beef cattle producers in the British Columbia.
Canadian Beef Information Site
When you buy Canadian beef you support Canada's beef farmers and ranchers, as well as communities across this country. This website is full of information about the world of beef including nutritional benefits, recipes, how to buy and industry links.
Can you recommend a good cut of steak? What's the difference between spareribs and baby back ribs? What makes a better burger – ground chuck or ground round? Is it hard to cut up a chicken? What does it mean to cut against the grain? Is Angus really better beef? Find the right answer on Meatshop 101.
A family recipe and one of our favorites.
God Made a Farmer - An Inspiring Super Bowl Commercial with Paul Harvey from joylights on GodTube.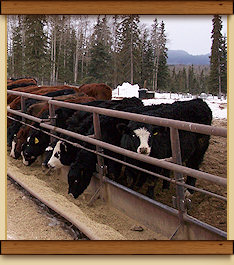 Here's looking at you kid...