Grass Finished Beef Products for Sale

We make regular trips to the Fraser Valley to visit family and will deliver from Prince George south to Abbotsford. We have a nice little reefer trailer we can pull behind our pickup so your purchased product will remain completely frozen for the entire trip. Click here for more information.
NEW Grass Fed and Grass Finished Beef
Grass Finished beef is now available for sale by the side or by the cut. Our "grass finished" beef has never been fed any barley throughout its entire life. Grass finished beef has a slightly higher cost per pound and is a leaner meat.
We accept orders online with a 25% deposit on confirmation.
Sold by the Side
The average side of beef will weigh between 320 and 350 lbs with 1/4's coming in at 160-175 lbs. (Sides are sold based on "hanging weight", that is the weight of the beef after slaughter but before cutting and wrapping)
1/2 Beef Side
$5.14 / lb
All sides include lean ground beef, roasts and steaks.
Hind quarter has more of the best steaks.
1/4 Front Side
$5.04 / lb
1/4 Hind Side
$6.04 / lb
Mixed 1/4
$5.54 / lb
Cuts from front & hind side

NEW

Mixed 1/8
$5.74 / lb
Cuts from front & hind side
Sampler Specials of Grass Finished Beef
You can order our sampler specials online using our PayPal secure shopping cart system. Click on the "Add to Cart" button below to place your order.
25 lbs of Beef Box
10 lbs of extra lean ground beef
4 lbs of lean trimmed stewing beef
2x 3 to 4 lb roasts
2 packs of prime steaks
2 packs of round steaks
only $240.00


BBQ Box
8 lbs extra lean ground beef
10 lbs prime grilling steaks
5 lbs smokies, brats, italian or wieners*
2 lbs maui ribs
only $305.00


*our sausage meats are gluten/lactose free
50 lb Box of Extra Lean Hamburger
| | |
| --- | --- |
| Our customers are always asking for more hamburger. Save $12.00 when you purchase our lean ground beef separately in a 50 lb box. Packaged in 1lb packs. | only $315.00 |
Family Pack - 50 lb Box
20 lbs of extra lean ground beef
12 lbs of beef roasts
6 lbs of prime steaks
5 lbs of lean trimmed stewing beef
3 lbs of chuck steaks
3 lbs of smokies, brats, italian or wieners*
only $430.00


*our sausage meats are gluten/lactose free
**NEW PRODUCTS ADDED - SEE BELOW**Build Your Own Box - Order by the Pound
We accept orders online with a 25% deposit on confirmation.
Type of Cut
$ per lb
Extra Lean Ground Beef
$6.54
Seasoned Hamburger Patties
*our patties are gluten free
$8.64
Lean Trimmed Stewing Beef
$6.90
Stir Fry
$9.30
Short Ribs
$5.90
Maui Ribs
$6.15
Brisket
$7.75
Beef Bacon (very lean)
$8.74
Rouladen
$9.84
Roasts
Chuck
$8.54
Baron of Beef/Round
$8.74
Cross Rib
$8.74
Sirloin Tip
$11.04
Prime Rib - Boneless
$13.04
Prime Rib - Bone-in
$11.04
Steaks
Round Steak
$9.24
Top Sirloin
$13.69
Sirloin Tip
$12.69
Prime Rib
$13.69
T-Bone
$15.69
New York
$17.04
Tenderloin
$20.19
NOTE: minimum order is 25lbs
Sizes per Package:
Ground Beef and Stewing Beef are packaged in one pound packs.
Roasts are cut to 3 to 4 lbs size.
Larger boneless rolled roasts are available on request.
Steaks are 1 per pack - cut to 3/4 inch thick
Custom Sausage Making
We can also offer custom sausages through the local companies who do our meat cutting and packing. We have 11 flavors of sausage to choose from including salami, pepperoni and bratwurst. We also offer hamburger patties and custom jerky.
Sausage and hamburger patty orders can be added to your side of beef order. Use our online order to indicate the flavor and number of pounds of sausage you would like.
All our sausage products are Gluten and Lactose free!
There is a minimum order of 20 lb per variety.
Product
$ per lb
Garlic Coil Sausage
$9.04
Pizza Pepperoni
$9.04
Italian Sausage
$9.04
Salami
$9.04
Summer Sausage
$9.04
Smokies
$9.44
Bratwurst
$9.44
Mennonite Sausage
$9.24
Pepperoni Sticks
$9.24
European Style Wieners
$9.44
Breakfast Sausage
$9.04
Jerky (sold in 4 oz packages - price for each)
Regular
$7.99
Teriyaki
$7.99
Special Cuts
Tongue, heart, liver and oxtail are available as well as specialty cuts such as "rouladen"10lbs.
| | |
| --- | --- |
| Type of Cut | $ per lb |
| Heart | $4.39 |
| Liver | $4.39 |
| Tongue | $4.39 |
| Ox Tail | $5.69 |
For Your Dog

Don't forget man's best friend, we offer bones for your dog.
When ordering put a checkmark in the box for your dog and we will add some tidbits for your pal.


5 lbs of bones free with 50 lb order of beef or $1.00 per lb.
NEW - Natural Dog Food
-
made from primarily organ meat such as heart, liver, tongue and kidneys. Comes in 10 lb packages that have been sliced in 1 lb sections. Keep frozen and break-off a 1 lb slice as needed. - $35 for 10lb package.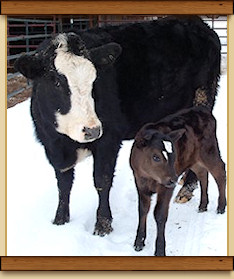 Angus Cross Beef Cattle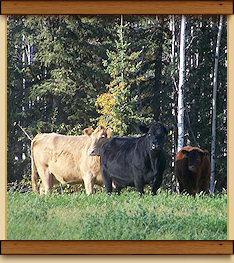 Near the treeline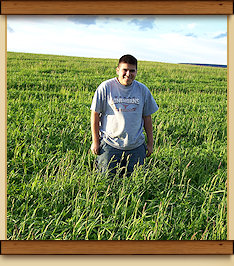 Premium horse hay ready to cut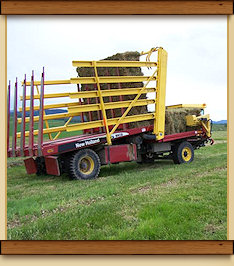 Bringing in the harvest