Natural Benefits of Grass Fed Beef

All our Beef is "Growth Hormone-Free" and is raised slowly on Nechako Valley forage, then finished with just enough rolled barley for maxium flavor and tenderness.
We also offer "Grass Finished" beef which has been raised on forage and grass only and has never been fed any barley, wheat or corn throughout its entire life. Our "Grass Finished" beef is available to order by the side only.
Slow growth and a natural forage diet minimizes animal stress and also eliminates the harmful fats and E.Coli bacteria often found in "force-fed" commercial beef.
Do you know and trust where your beef comes from?
Buy Direct and have confidence you are providing your family with the Best Beef in BC.
If it isn't "good enough" for our family,
it isn't good enough for yours.
Better for You
Compared to grain-fed beef, research has found that grass fed beef:
is naturally lean, less than half the total fat 
contains up tp to 6 times higher percentage of omega-3 fats
is 3-5 times higher in conjugated lineolic acid
is 4 times higher in vitamins A and E
carries minimal risk of E.coli contamination
Better for the Animals & Environment
We believe that animals raised for food deserve a comfortable life. From mid May to October our animals live on grass pasture with abundant water supply and fresh mountain air, free to eat and rest at will. 
Our cows are overwintered on hay from our ranch and are still free to roam within our fenced field. Our calves are fed a mix of hay and silage in well-bedded roomy pens.
We strive to improve the ecological condition of our ranch by careful control of nutrients, fencing stream and wetland areas, and protection of small mammal and bird habitats as per current Ministry of Environment guidelines.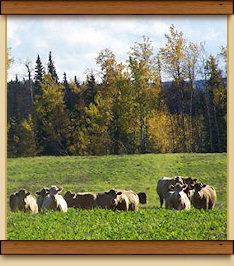 Natural Forage Diet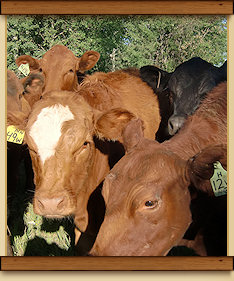 Beefy Greetings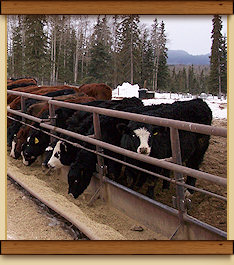 Calves enjoying winter feed mix