Whispering Winds Ranch

Whispering Winds Ranch is located on the Nechako River 25km NW of Vanderhoof in the Central Interior of beautiful British Columbia.
Vanderhoof is a small community whose claim to fame is being the geographic center of British Columbia.
We are a family farm consisting of 2080 deeded acres with an additional 1230 leased acres. We raise all our own feed so we can control what our animals eat. We are especially blessed with really great neighbours and friends who help us out during the really busy times like calving and haying. Otherwise it's all in the family which includes 1 full time awesome hired hand who we couldn't do without.
Around here if you're old enough to walk you're old enough to work. Why put off till tomorrow what you can do today.
We strive to improve the ecological condition of our ranch by careful control of nutrients, fencing stream and wetland areas, and protection of small mammal and bird habitats as per current Ministry of Environment guidelines.
Our priorities are: GOD is #1, family and friends are #2, everything else is #3.
We are a member in good standing of the British Columbia Cattlemen's Association.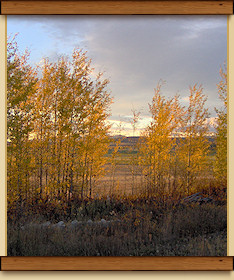 Fall Colors at the Ranch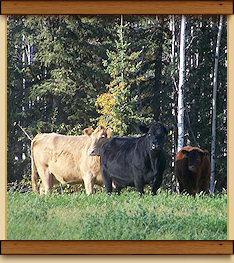 Near the treeline