Kobe Beef Products for Sale

Kobe Beef originates from the Kobe province in Japan. Whispering Winds Ranch bought a small amount of Purebred stock in 2010 and now we are pleased to offer a limited supply of Kobe Beef to our customers. Find out more about Kobe Beef below.
Your Best Buy - Sides of Beef
Our natural HORMONE-FREE beef is grown slowly on a forage diet and matures at 24-30 months of age. The average side of beef will weigh between 320 and 350 lbs with 1/4's coming in at 160-175 lbs. (Sides are sold based on "hanging weight", that is the weight of the beef after slaughter but before cutting and wrapping)
We accept orders online with a 25% deposit on confirmation.
1/2 Beef Side
$6.14 / lb
All sides include lean ground beef, roasts and steaks.
Hind quarter has more of the best steaks.
1/4 Front Side
$6.04 / lb
1/4 Hind Side
$7.04 / lb
NEW 1/4 Mixed
$6.54/ lb
cuts from front & hind

Sampler Box for Kobe Beef
You can order our sampler specials online using our PayPal secure shopping cart system. Click on the "Add to Cart" button below to place your order.
20 lbs of Kobe Beef BBQ Box
10 lbs Kobe 5 oz burger patties
5 lbs of New York Strip Loin steaks
5 lbs of Prime Rib/Sirloin steaks
only $305.00


Build Your Own Box - Order by the Pound
We accept orders online with a 25% deposit on confirmation.
Type of Cut
$ per lb
Kobe Extra Lean Ground Beef
$7.54
Kobe Seasoned Hamburger Patties
*our patties are gluten free
$11.00
Kobe Beef Stir Fry
$11.34
Kobe Beef Maui/Korean Style Ribs
$6.74
Steaks
Kobe Beef Top Sirloin
$17.34
Kobe Beef Prime Rib
$17.34
Kobe Beef New York Strip Loin
$22.79
Kobe Beef Tenderloin
$26.79
NOTE: minimum order is 20lbs
Sizes per Package:
Ground Beef is packaged in one pound packs.
Steaks are 1 per pack - cut to 3/4 inch thick
More about Kobe Beef
Kobe beef comes from the Tajima-gyu breed of cattle found in Japan's Hyōgo Prefecture, of which Kobe is the capital and the meat's namesake. It is important to make sure when purchasing Kobe beef that it comes from purebred stock (which ours does). Kobe beef is renowned for its superior flavor, tenderness and high amount of intramuscular fat, giving the meat a marbled appearance.
To retain maximum flavor, Kobe beef should not be cooked further than medium-rare. This is because the fat in Kobe beef has a lower melting point than that of other beef so if cooked for too long at too high a heat, it simply melts away. In fact this characteristic which enhances the feeling of the meat "melting in the mouth", really makes Kobe beef an outstanding culinary experience. Kobe beefs usually ranks at least two grades higher than Prime.
For Your Dog

Don't forget man's best friend, we offer bones for your dog.
When ordering put a checkmark in the box for your dog and we will add some tidbits for your pal.


5 lbs of bones free with 50 lb order of beef or $1.00 per lb.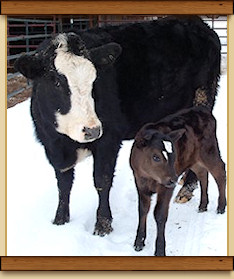 Angus Cross Beef Cattle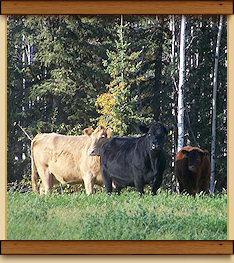 Near the treeline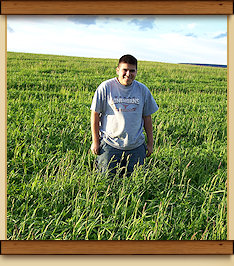 Premium horse hay ready to cut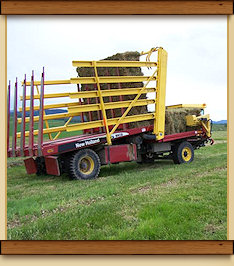 Bringing in the harvest